Richard Bailey was born in Yorkshire England in 1619 and arrived on the Ship "Bevis" in 1638, and settled in Rowley, where he set up the first clock mill in this country.
One of his descendants was Oliver Bailey, a cordwainer (shoe maker) and farmer, born November 7, 1794. and died January 6, 1878. He was a son of Pierce Bailey and Salome (Bailey) Bailey of Ipswich Village, and married Judith Howe of Rowley. He purchased 3/4 acre in 1825 from his wife's parents Reuben and Elizabeth Howe (Salem deeds 238, 103).
Katherine Jewett, the unmarried daughter of Purchase Jewett, built a dwelling on the lot she received from her father, in 1789. In 1830, Oliver Bailey purchased the land and home of the Katherine Jewett, spinstress from her heirs, took down the old dwelling and built this house. In the deed, dated December 31, 1830, the lot is described as bordering on the Post Road, continuing to the land of the widow Hannah Jewett, thence to land of Dr. Thomas Manning, thence to land of Jacob Picard, "containing 10 acres more or less, with all the buildings thereon." (Salem Deeds, 259: 4)
The stone foundation is topped with cut granite blocks, and a massive brick chimney foundation supports the fireplace and hearth in the living room above. Houses built in this era would have had a brick arch foundation, indicating that the house was built on the 1789 foundation of the previous structure.
Oliver Bailey's son, Oliver A. Bailey, sold 5 acres on Dow's brook to the Town of Ipswich for construction of the town reservoir, after the downtown fires earlier that year.
Other transactions by Oliver Bailey (from Salem Deeds):
Bought a meadow in Rowley from Samuel Gage in 1821 (228,3);
Bought a lot in Rowley and Ipswich from Joshua Jewett in 1822 (231,5)
Bought land in Rowley from Tristam Brown in 1826 (241,145)
Bought land in Rowley from Samuel Jewett in 1827 (246,213)
Sold land nearby in Ipswich to Jacob Bailey in 1827 (246, 213)
Purchased land in Rowley from Micajah Treadwell in 1828 (249,241); (251,134)
Purchased land in Rowley from Sarah Vinton in 1828 (251,135).
The children of Oliver and Judith Howe Bailey were:
Mary J. Bailey born March 26, 1827; not married. 874
Amasa P. Bailey born December 16, 1828. 875
Oliver Alvin Bailey born December 4, 1831 ; married Emily Pearson of Ipswich Village, in October, 1877.
Hannah Elisabeth Bailey born September 26, 1838. 877
Eben Howe Bailey born September 24, 1843.
One of their sons Eban Howe Bailey lived to be 100 years old, dying in 1943. Eban is well-known for his popular spiritual musical compositions. This house is therefore also known as the Eban Howe Bailey House. Another descendant of Richard Bailey was Dr. George Guy Bailey of Ipswich.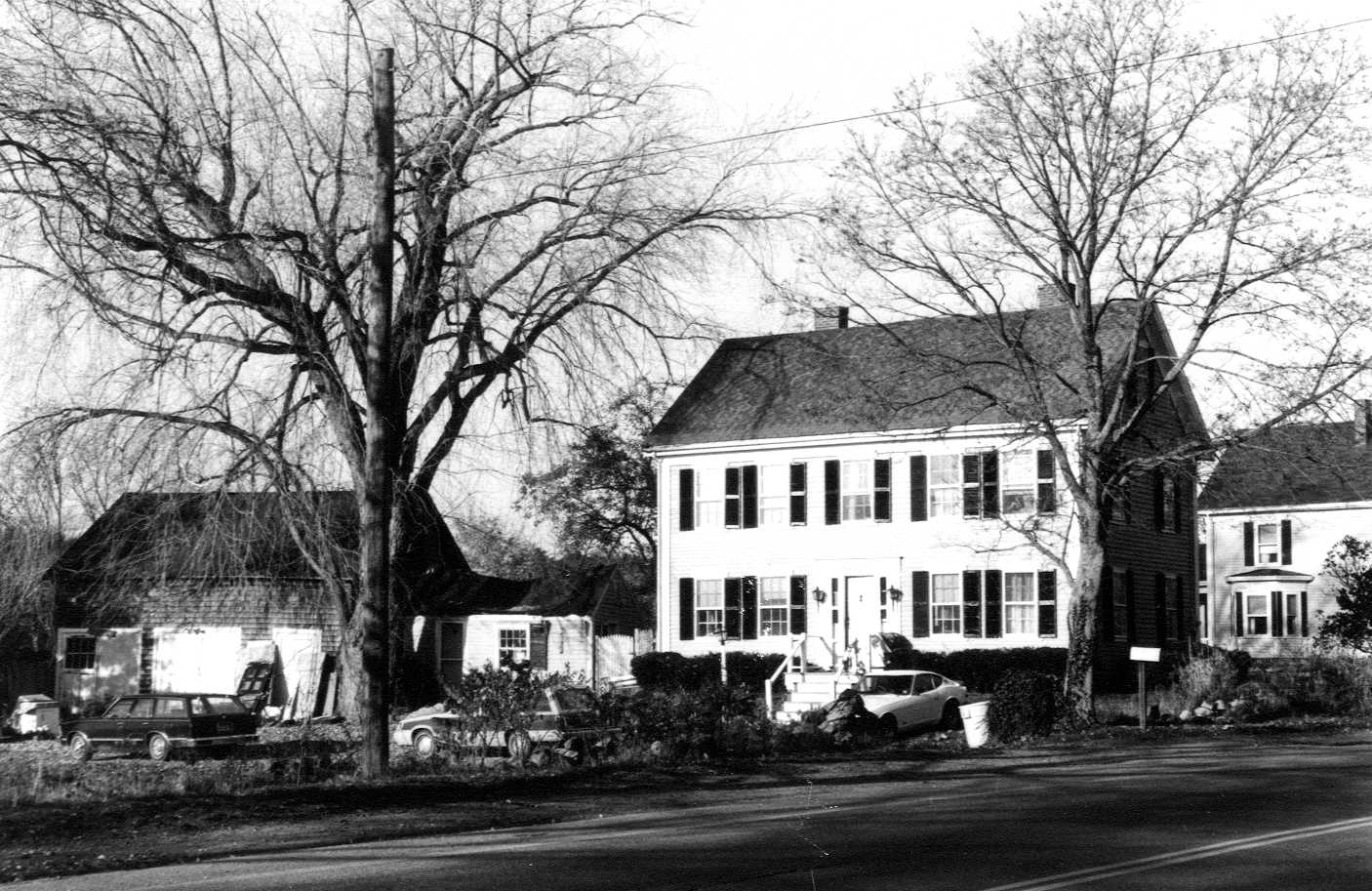 Oliver Bailey's shoe shop is gone, but this fine Greek Revival house is in remarkable condition.The current owners are a metal craftsman who has created a small farm on the property, and his wife, a language professor.
Sources: